Chai Yogurt Cheesecake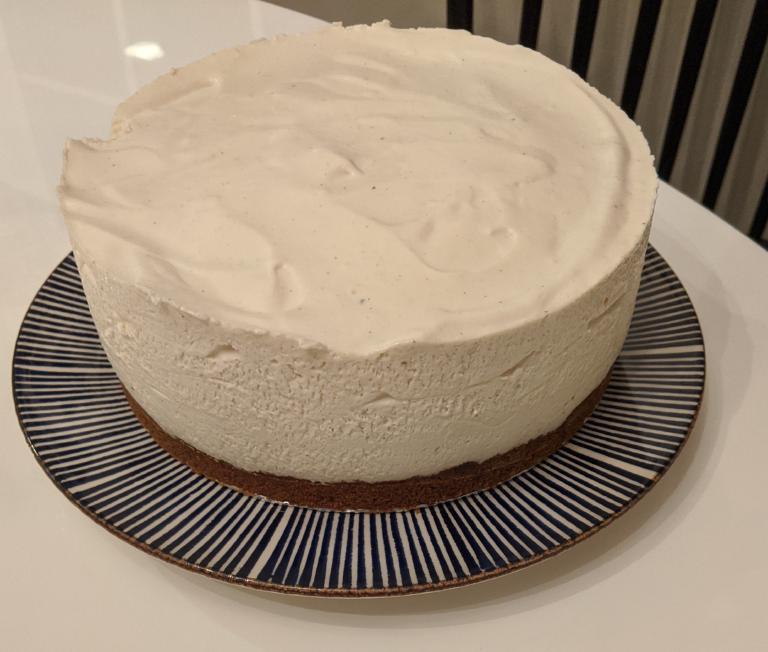 The inspiration for this recipe came from a class I took at Culinaria that featured a pumpkin cheesecake with a pepparkakor crust. While I'm not a big fan of New York-style cheesecake custard or of pumpkin-flavored things, I loved the crust made from butter and pepparkakor crumbs. The warm spices used in the cookies (cardamom, cinnamon, and cloves) are also traditionally used in chai tea, so I wanted to try building a cheesecake around chai-infused cream.
Buckwheat Butter Cookies and Barbados Biscuits
I baked a pair of recipes from Claire Ptak's The Violet Bakery Cookbook for the USDS holiday party. This year's desserts were supplied by attendees in the form of a cookie war, and I wanted to make sure there was at least two gluten-free entries. I made a double batch of buckwheat butter cookies (a slice-and-bake shortbread with chopped nuts and candied citrus peel) and a single batch of barbados biscuits (fudgy almond macarons with a pecan topping) because the former used one egg yolk in each batch and the latter used two egg whites.