Pecan Pignoli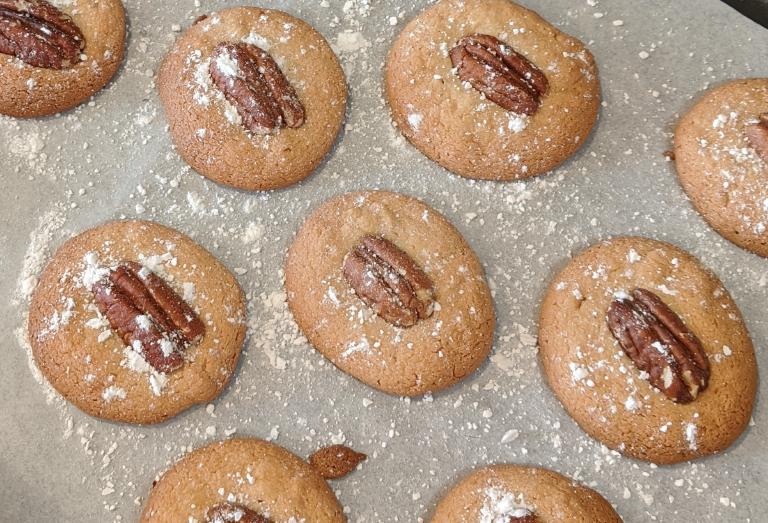 I have always loved pignoli and was looking for a way to get rid of some extra pecan halves that had been in my freezer for nearly a year. My parents send me a large bag from Texas every Christmas, and I never manage to use them all before the next bag arrives. The recipe I tried to adapt, though, did not seem to have enough internal strength to hoist a full pecan half, as the end result sagged and flattened rather than puffing into a chewy dome as happens when using pine nuts (which are much smaller and lighter).
Buckwheat Butter Cookies and Barbados Biscuits
I baked a pair of recipes from Claire Ptak's The Violet Bakery Cookbook for the USDS holiday party. This year's desserts were supplied by attendees in the form of a cookie war, and I wanted to make sure there was at least two gluten-free entries. I made a double batch of buckwheat butter cookies (a slice-and-bake shortbread with chopped nuts and candied citrus peel) and a single batch of barbados biscuits (fudgy almond macarons with a pecan topping) because the former used one egg yolk in each batch and the latter used two egg whites.
Pepparkakor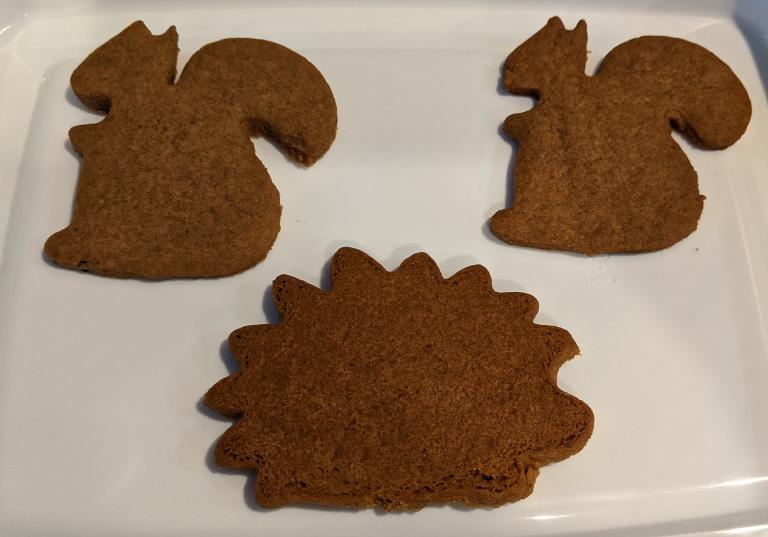 Few things evoke holiday nostalgia as strongly as the scent of fresh gingerbread baking in the oven. I'm not the biggest fan of soft gingerbread, but Swedish pepparkakor ("pepper cookies") are thin, crispy, and fill your kitchen with the same warm spice aroma. This recipe uses no ginger but gets the same flavor profile from cardamom, a spice made from the seeds of several plants in the ginger family. I picked up this recipe at a holiday baking class at Culinaria, a small cooking school in Vienna, VA.